Find out a little more about our transfer service
Standard Workflow
Initial inspection:
Prior to transferring your film it is first inspected for any physical damage to splice joints and sprocket holes. Where possible any defects are corrected to ensure consistent projection.
Cleaning
The film is cleaned to remove any surface contamination that can often show up as hair or dust on the film during playback. A special formulation cleaner, restorer and lubricant is used that protects the film from scratching during projection, also giving the film slightly better colour depth for the transfer process.

Smaller 50ft reels are usually spliced onto the larger 400ft reels during the cleaning process. This provides a more consistent transfer, eliminating the need to change focus and lighting after exchanging each of the smaller individual reels.
Editing
Once the film has been captured to computer, basic editing is performed to remove blank sections of film and obvious flaws such as shots of the floor or sky from unintentionally leaving the camera running.
Colour correction
Basic colour correction is applied to restore original colour. This cannot be used when film has faded badly or the original capture is excessively over or under exposed. The red or purple colour cast evident with some brands of film can often be reduced to a more acceptable level also.
Compilation to DVD or digital file
The final process is the DVD creation, allowing you to enjoy watching your family memories on computer or home DVD player.

As DVD is considered to be old technology now and will be phased out slowly over the next few years, we also provide the raw capture files for archival backup. These files are very large and need to be copied to a portable USB drive. If you require these backup files please bring a USB-3 drive of sufficient size for your project. We can advise details based upon the quantity of film.
Film Formats
The majority of home movies were captured on Standard 8mm or Super 8mm film, a format that became very popular in the 1950's and 60's due to its relatively low cost when compared to semi-professional 16mm film.

Prior to 1965 all film was captured on Standard 8mm film having been created from existing 16mm stock and called Double 8mm film. Super 8mm was later introduced providing a slightly larger image area by reducing the size of the sprocket holes.

The 9.5mm film predated both 8mm formats however this film size lost popularity in favour of the new Super 8mm format in introduced in 1965.

We specialise in all film formats including 9.5mm
Raw capture files
The raw capture files are also available at no additional charge as an archive backup or for future editing, should you want to create your own special projects at a later date. This is encouraged as DVD's also have a limited life span and can be damaged or will be replaced in the near future by some other playback medium.
4:3 or 16:9 aspect ratio
Regular transfers are performed in Standard Definition 4:3 aspect ratio which is the same aspect ratio of the original film. Capture in High Definition is also available however this has a wide screen 16:9 aspect ratio resulting in black bars appearing on either side of the film.
Projector hire
If you first want to view your films to find out which reels to have transferred to DVD, we have a Dual 8mm projector available for weekend hire at a cost of $50.00 plus a returnable $50.00 deposit. This is helpful if you are unsure of the content of each reel and can also assist in placing the film reels in the correct timeline sequence ready for transfer. We also have a Super 8mm Sound projector if your film includes a magnetic sound strip.
---
Main film formats...
Our service includes transfer of the four main film formats, 9.5mm, 16mm, Standard 8mm and Super 8mm. Polavision is a variant of Super 8mm.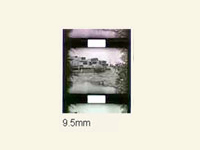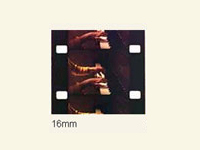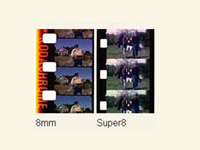 ---